UNILEVER PROFESSIONAL


INTRODUCING OUR NEW FOOD SAFE* RANGE FOR YOUR PROFESSIONAL KITCHEN!

Our NEW Food Safe* range meets the requirements of your professional kitchen with four new products you can confidently rely on to keep your kitchen floors, surfaces, and equipment clean and safe.
THE IMPORTANCE OF USING FOOD SAFE PRODUCTS IN THE KITCHEN
Harmful bacteria, grease, grime, and soil can cause havoc in a professional kitchen. Cleaning and disinfection reduce the risk of food contamination and removes pathogens and debris which attract pests. But turning to harmful cleaning chemicals isn't the answer.
Recent research shows that some chemical formulations can present risks when cleaning in the foodservice environment:
Fragranced cleaning products contain allergens that cannot be used in food preparation areas. Fragrances can also change the smell and taste of the food. Why would you want to interfere with the aromas of bread baking, garlic roasting, bacon frying, or a sizzling steak?
Another challenge is the risk of cross-contamination when cleaning surfaces and equipment that come into contact with food. During the cleaning process, some product residue could be left on surfaces and come into contact with the food consumed. To keep surfaces clear of pathogens, they must be disinfected, but the cleaning product used must be officially certified as 'food safe' to ensure that its residue will not cause harm.
These factors contribute to the challenge operators face in the industry: Professional kitchens need cleaning products that are tough yet safe to use.
With these four products, your kitchen can maintain a Hazard Analysis Critical Control Points (HACCP) compliant cleaning system that keeps staff and customers productive, safe, and satisfied.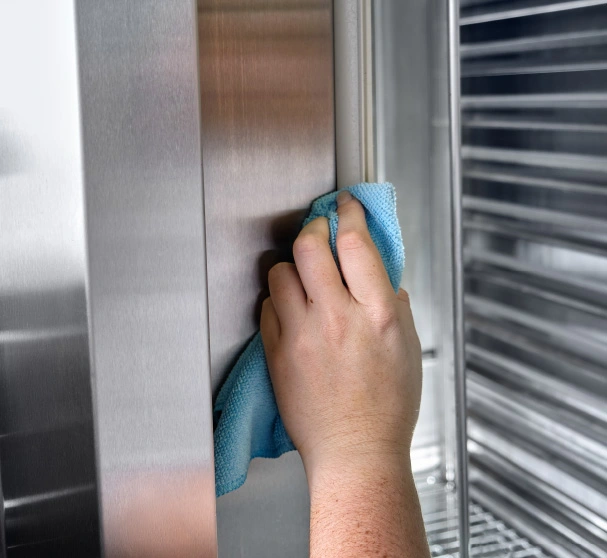 *Food Safe indicates that the product is safe to use on food preparation areas if usage instructions on back of pack are followed. This is supported by the certification provided by Intertek, an external company that performed the analysis on: Toxicological Safety for Use in Direct Food Contact Applications (SANS 1828).