UNILEVER PROFESSIONAL


WAYS TO REDUCE COSTS IN YOUR HOME CLEANING BUSINESS

When you run a home cleaning business that offers top-quality cleaning services to private and professional customers, keeping your monthly costs low is an important part of it. Running a home cleaning services business that saves money through streamlined processes is how to make money in this kind of industry in South Africa.

From buying in bulk to staying on top of your finances, we will take you through the most pertinent ways to reduce costs in your home cleaning business. In addition, as a business owner, partnering with a cleaning products company you can trust is paramount to your business's success, and that's why we, at Unilever Professional, are here to help.
THE BENEFITS OF BULK BUYING
Many people think that cost saving is the only real benefit of buying in bulk. Whilst this is true, there are several additional benefits that you might not know about that could have very positive impacts on your business and its bottom line:
Buying in bulk often allows businesses to negotiate lower prices with suppliers, which can result in significant cost savings over time.
Purchasing larger quantities of products at once can help reduce shipping costs, especially if the supplier offers free shipping for larger orders.
Buying in bulk can help businesses keep their inventory stocked and organised, making it easier to manage and track their products.
By purchasing in larger quantities, businesses can reduce the frequency of ordering and restocking, which can help streamline their operations and save time.
Buying in bulk can provide businesses with the flexibility to adjust their prices and profit margins while still offering competitive prices to their customers.
When businesses buy from a reliable supplier in bulk, they can ensure a consistent quality of products over time, which can help build customer trust and loyalty.
Bulk buying is a smart strategy for businesses that want to save money, improve their operations, and provide consistent quality products to their customers.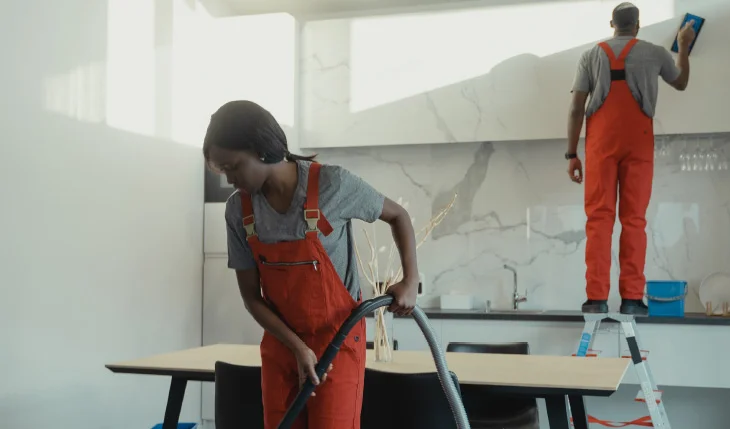 HOW TO CALCULATE YOUR MONTHLY PRODUCT USAGE NEEDS
You would be surprised to learn how many businesses simply just buy stock of cleaning and other cleaning products when they run out without any thought to when they last bought. Understanding your monthly usage needs is the piece of cleaning business advice that any expert will give you first because it enables you to understand what you need, what you spend, and how often you spend it, which makes budgeting and month-end tasks easier. Here's how to calculate your monthly usage needs:
Take one month as your test month.
Starting with a new batch of cleaning products, take note of what you've bought and how much product you've bought in bulk.
At the end of the month, work out what products are left (if any), what products are finished and need to be re-ordered (this means that will be your monthly stock) and what products are still half full or more (these will become your bi-monthly stock).
Create a spreadsheet with all product names, how often you need to order them, and the costs too.
CHOOSING THE RIGHT PRODUCTS TO BUY IN BULK
Choosing the perfect balance of cleaning business resources will stand you in good stead to ensure you have the right products in the right size, and will help avoid excess or unnecessary products filling up your stock cupboard. Firstly, ask yourself these important stock questions:
What are my core cleaning services? I.e., is it general surface cleaning of kitchens and bathrooms, or does it include laundry and disinfecting surfaces too?
How many staff do I have and how much product do they each require?
What is my monthly budget for cleaning product stock?
Do I have a cleaning product partner who can supply me with bulk products at competitive bulk prices?
When you use a reliable supplier like Unilever Professional, you'll have a range of cleaning products to choose from for a range of cleaning services. From surface cleaning to hygiene products, we can offer you bulk sizes of all your tried and tested products. We stay ahead of the trends when it comes to products and offer the best bulk deals to our customers that often can't be beaten.
Take a look at our inventory of products now:
STORING AND USING BULK CLEANING PRODUCTS
Storing and using an inventory for bulk products requires careful planning and organisation. Here are some steps to help you effectively store and use an inventory for bulk products:
Choose a suitable storage location: Select a storage area that is clean, dry, and free from pests. The area should also have adequate space for your inventory and be easily accessible for inventory management.
Label and organise your products: Label each product with its name, item number, and quantity. Organise products based on their category, size, or expiry date.
Track your inventory: Use an inventory tracking system to keep track of your stock levels and product movements. This will help you avoid overstocking or running out of products.
Rotate your products: Use the First-In-First-Out (FIFO) method to rotate your products. This means that the oldest products should be used first, while the newest products are stored at the back.
Monitor inventory levels: Regularly monitor your inventory levels to determine when it's time to restock. Use reorder points to set a minimum level of inventory to maintain, to avoid running out of stock.
Use inventory management software: Use inventory management software to automate your inventory management processes, including tracking stock levels, generating reports, and managing purchase orders.
Train your employees: Train your employees on how to properly store and use your inventory. Make sure they understand the importance of following inventory management procedures to avoid mistakes that can lead to lost sales or increased costs.
By following these steps, you can effectively store and use an inventory for bulk products, reducing costs and increasing efficiency.
When successfully reducing costs for your home cleaning business, choose Unilever Professional, your bulk supplier of cleaning products today.

FAQS
HOW TO START A HOME CLEANING BUSINESS IN SOUTH AFRICA?
There are several steps to beginning a home cleaning business in South Africa. One of the first is to partner with a bulk cleaning products supplier like Unilever Professional to get products at the best prices in town.
IS HOUSE CLEANING A GOOD BUSINESS TO START?
If you have done your due diligence and know that there is a need or gap in the market in your area for this type of business, then go for it.
HOW CAN I REDUCE MY CLEANING COSTS?
Buying in bulk will make the biggest impact on your cleaning costs each month.
HOW CAN I INCREASE MY CLEANING BUSINESS PROFIT?
Making sure you are keeping a strict inventory of products being used every month, their costs, and buying in bulk will help reduce costs and improve bottom lines.
WHAT PRODUCTS TO BUY WHEN STARTING UP A CLEANING BUSINESS?
Look at the Unilever Professional line of products for all your cleaning business needs. From hygiene products to laundry detergents, we stock it all.